Posts Tagged 'record conversion consultants'
Our Document Scanning Services for Converting Records to Digital Imaging Safely and Efficiently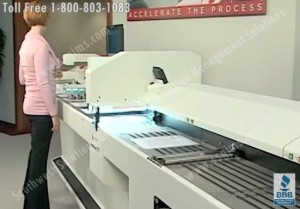 We offer document scanning services to speed up the process of converting records to digital imaging. Using state of the art scanning equipment, we are able to provide document scanning services for converting records to digital imaging securely, affordably and quickly. We work with clients that range from small businesses to very large corporations across all industries, to help migrate your scanned documents across the enterprise to ensure the availability, integrity, and longevity of your records and information. Our document scanning services can stand alone, but we also offer records management consulting to help you create a complete program for document and data management.  We will help you plan for the unexpected with our disaster recovery planning services to ensure the integrity of your business. Whether its microfilm, paper, microfiche, or a combination, our clients rely on us to manage and digitize their business critical information.
Is it Time for Your Business to Move From Paper to Digital Imaging?
Are you wondering if it's time for your business to move from paper to digital imaging? Studies have shown that workers waste 20 to 40 percent of their time searching for paper documents manually. Ironically, we only spend 5 to 15 percent of our time reading the information. Because 90 percent of our corporate information still resides on paper, having the information where you need it, when you need it is often challenging. Also, when the information is no longer current, we spend even more resources retrieve it, box it, store it, and manage retention schedules. (Read more about digital imaging readiness)
To find out more information on our document scanning services for converting records to digital imaging, just give us a call at 1-800-803-1083 or send us an email. We will put you in touch with one of our records management consultants that will provide you with more details and guide you through the digital imaging process.