Posts Tagged 'managing medical records'
Electronic Medical Records (EMR) for Managing Patient Information
Healthcare providers face many challenges including, protecting patient records, quickly retrieving information, and reducing administrative overhead.  Also, the law requires physicians to maintain complete and accurate medical records for each of their patients, and a failure to maintain a record for each patient constitutes professional misconduct.
Investing in an electronic medical records (EMR) system is an excellent way to ensure your healthcare facility will be able to provide efficient, coordinated, cost effective, safe and high-quality patient care.
Benefits of Managing Patient Information with Electronic Medical Records
Electronic Medical Records allow doctors easy access to complete and up to date patient medical records. The EMR provides important information about medications the patients are taking, immunizations, and allergies, which a patient might not remember when they are filling out forms. Also, personnel can quickly update the records with any address changes or insurance changes.
Electronic Medical Records save money. First, they save on the cost of paper and file folders. Second, an EMR system saves space because you no longer have to find areas to store and organize so many paper records. Finally, EMRs save on labor costs because employees can just type a few identifying keystrokes to retrieve a patient's record instead of sorting through hundreds of file folders to retrieve and re-file a patient charts.
Ready to Convert to an Electronic Medical Records System?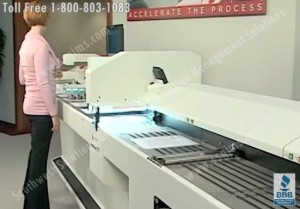 Whether your business is a hospital, clinic or small private practice Southwest Solutions Group Information Management professionals can help you convert to an Electronic Medical Record System. We offer secure EMR-Compatible HIPAA compliant medical records and patient chart scanning services that are cost effective without sacrificing quality, service, or the privacy of your patients. If you want more information about EMR and our state of the art scanning services, call us at 1-800-803-1083 or send us an email.