Posts Tagged 'finding misplaced files'
Do You Need To Make Changes To Your Filing System?
"I hate our filing system.  Filing paperwork is so frustrating.  Files aren't in the right place and you have to go searching through offices to try and find files.  Our filing cabinets are crammed full of documents and every time we get a new client, we have to move files from one cabinet to another cabinet to make room. No one likes our filing system."
Does this situation sound familiar to you? If it does, then you have come to the right place. Southwest Solutions Group® recently converted a firm to color coded files with barcode file tracking to solve their file management problems.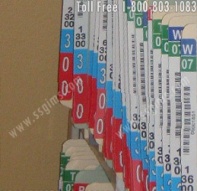 Converting to Color Coded File Folder Labeling Systems
After performing a filing systems needs analysis, we made a recommendation to the firm to convert from top tab legal-size file cabinets to a side tab letter-size color coded shelf filing system.  The project included merging several different types of files into one centralized file systems.   New file folders were supplied with one-piece color coded labels that included a colored classification label to identify the type of file, as well as the year the file was originated, and the file number.  The new color coded system helps personnel find files quicker and helps to identify misplaced files in the system. (click here to read about other consulting services we offer to find what will work best for you)
Adding Barcode to Improve Tracking File Folders
Another part of the redesign of the firm's filing system was to implement a barcode file tracking system to reduce the time spent searching for files when they were out of the filing system. The barcode file tracking software allows the firm to know exactly where files are located at any given time through a database linking files with employees and locations.
Turning Your File Room Mess into an Efficient Records Management System
With a new color coded filing system and barcode tracking software, the firm was able to make their employees happy and more productive. If you would like to learn more details about how we were able to help this firm create an efficient records management system, click here to download the PDF file.
I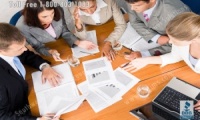 f you would like more information about how Southwest Solutions Group can assist your business with creating an efficient records management system, give us a call at 1-800-803-1083 or click here to send us a message.